As many of you have heard, the X-Ordinary journey also had momentous beginnings. July 20, 2014 started as just another ordinary morning at work. A few hours later, I was surprised to find myself packing up my desk, leaving behind a successful business built from scratch due to a major company layoff.
But it was not so surprising, in that I had been months in prayer about walking away from work I felt I was good at doing, but far from my career passion in social entrepreneurship – businesses purposed to create social impact. Exactly a year ago, July 20, 2013, I had handed in my resignation only to be asked to stay by my superiors. "Just stay, I've set you here for now" God had iterated in my prayers.
"He put a new song in my mouth, 
a hymn of praise to our God." Psalm 40:30
I woke up, newly jobless at 6AM the next morning, left LA and drove 5 hours the New Camaldoli Hermitage, a silent Benedictine monastery situated in the remote wilderness of Big Sur along the beautiful California coast. I came into the deep forest quiet to pray about a crazy idea: Taking a year sabbatical to travel and write. Within minutes of arrival, I showed up at Collatio – a communal reading of scripture.
"Therefore every scribe who has become a disciple of the kingdom of heaven is like a head of a household, who brings out of his treasure things new and old." Matthew 13:52
This verse comes from a passage about how the Kingdom of God is of such worth that one would sell all he has to possess it. This note particularly to scribes touched me. Scribes, whose jobs were to write about scripture, were called to take from their wealth of experience and bring out stories of how God is working in people's lives, biblically and now. It was the first in a series of confirmations to me that this was the right path to pursue.
Fast forward a week…
… I came away from Big Sur both inspired and demoralized. A meeting with a wise old monk had given me caution on proceeding willy-nilly on my new adventure. He commented on the lack of structure, purpose and service, "Sounds like a year-long vacation if you ask me!" During the drive continuing on to San Jose, I thought about ways to structure my travel around volunteering and serving others. The only organization that came to mind was Rep, which a friend from business school had introduced to me years ago. On a whim, I cold-emailed Brett who agreed to meet me out of his busy schedule.
"It happens that I've written a new book. 500 stories of ordinary people who God has called to do ExtraOrdinary things." – Brett Johnson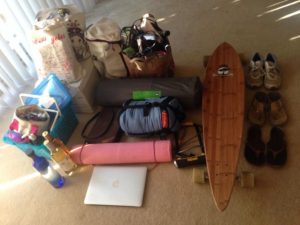 It turns out that Brett & Lyn had been praying since April for a resource to travel to South Africa, India & Indonesia do validation for a book all about old and new Rep stories. Two days later, I went to my first Rep orientation and started the 6-hour commute between Los Angeles and the Bay Area training. Above is a picture of what I was left with after giving up my LA apartment a month later. On Nov. 23rd, my class had our Commissioning Ceremony.
God Inserts a – Pause –
Due to the timing of our commissioning, a key wedding and American holidays, I found that the ExtraOrdinary travel would start in January. After such an amazing beginning, I had fully expected to be meeting many of you in South Africa… right now! 
Instead, this has been a season of waiting and preparation for me. Through a series of homestays during and after Training, God has been teaching me reliance upon the generous hospitality of many friends and family. Couches, sleeping mats and shared mealtimes have all become humbling de riguer. 
During this time I've been enjoying the warmth and encouragement of close relationships with people I've known all my life. And ironically, sleeping on the floor has helped heal a painful spot on my back! I find God has a great sense of humor and cares for us in the smallest of details.
Updates
This Advent has been pregnant with anticipation for me. My own longing for the ExtraOrdinary adventure to begin becomes entwined with the desire to see Christ bring forth this story, and your stories with it, to new life.