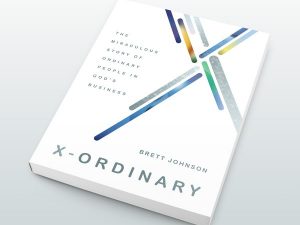 An excerpt from the new book, X-Ordinary by Brett Johnson
Forward
Thirty years ago we saw firsthand how the worlds of local church and missions could be enriched by marketplace people bringing their spiritual assets to the game, and vice versa. Over twenty years ago — October 9 – 11, 1992 to be precise — my wife Lyn and I set about starting something that would be impossible without the extraordinary participation of God. In starting a new kind of organization we aimed to stir the vast throng of sleeping giants, starting with businesspeople and working professionals, to use their God-given abilities to fill the tremendous gaps in the world left by traditional approaches to what one could call "missions."
Given my background in consulting, the approach we took was an advisory one: we provided advice, expertise, technical assistance, and so on to help increase the effectiveness of social sector organizations. We soon discovered there were not enough consultants with a heart for God's work who were able to tackle complex issues and willing to give all their vacation time to hop on a plane and serve. In order to have more players on the field we needed some tools, technology, training… something that would empower ordinary people to do extraordinary things.
We quickly discovered social sector leaders had a limited understanding of what businesspeople had to offer; acceptance of pro-bono services coming from outside the non-profit tribe was slow. I remember a veteran missionary introducing a team from The Institute for Innovation, Integration & Impact this way: "If you want to know why we have six businesspeople here to teach us for a week… ask God!" By the end of the week he said, "This is what I always wanted but was unable to put into words."
Today we have in our hands tools that are helpful in transforming leaders and organizations. These frameworks, methods and assessments are excellent, but they are not enough: without the miraculous intervention of God — without the EXTRA Ordinary — no tools and techniques will accomplish the impossible routinely,let alone with an eternal impact. This is one of the reasons we train businesspeople to make space for God to do the miraculous, particularly in a marketplace setting.
It is these stories that I want to share in this book.